Learning Days 13: Latin America Regional Hub Workshop
Organized by Universidad de los Andes, Colombia, home of the Latin America Regional Hub of the global network Evidence in Governance and Politics (EGAP) along with host institution Instituto Tecnológico Autónomo de México (ITAM)
August 7-11, 2023
Mexico City, Mexico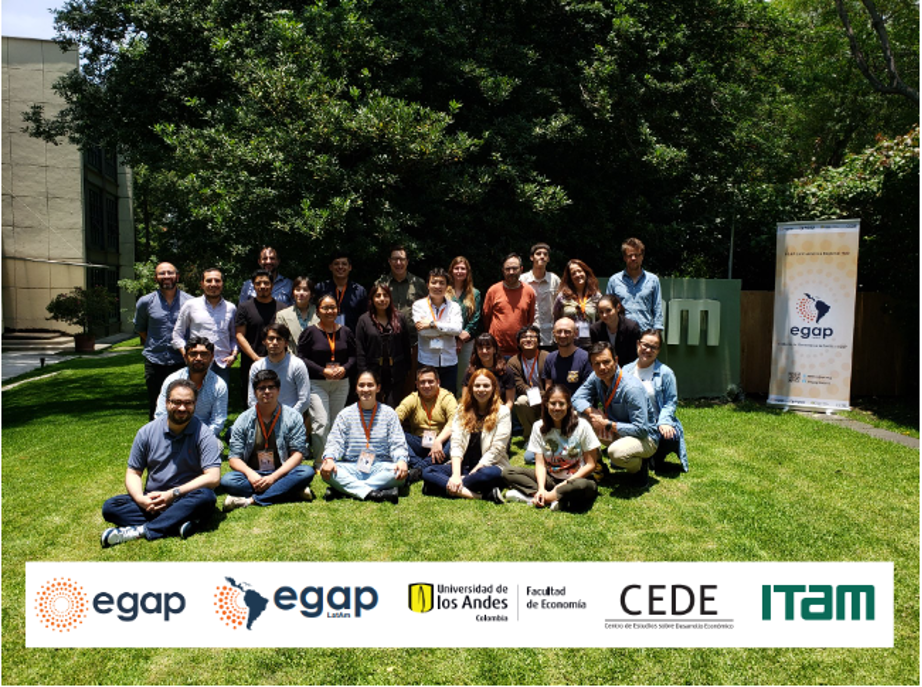 The EGAP LATAM Regional Hub held a Learning Days workshop in Mexico City, from August 7-11, 2023, in alliance with host institution Instituto Tecnológico Autónomo de México (ITAM).
This 5-day intensive workshop introduced and developed familiarity with causal inference in impact evaluations with a quantitative focus. It served Latin America-based scholars, researchers and practitioners working in academic, non-governmental, and government organizations who carry out analyses related to Governance, Policy, and Development issues.
This workshop was held in Spanish. It covered concepts & tools for impact evaluations through randomized interventions, statistical exercises in R, and individual advisory sessions for participants to strengthen their own research designs. Key topics included causal inference, randomization, estimation, and hypothesis testing among others
The workshop was organized by Hub Trainings Director Andrés Moya and host representatives Horacio Larreguy, Mauricio Romero, and Antonella Bandiera, and advised by Methods & Training Co-Directors Nahomi Ichino and Graeme Blair. The team of instructors included experts on experimental research, including: Rosario Aguilar, Jake Bowers, Danilo Freire, Luis Maldonado, and Maarten Voors.
Workshop Participants
Alonso Gutiérrez Olivares
Carlos Alberto Velasco Saavedra
Carolina Vivianne Acevedo De La Harpe
Claudia Montanía
Diana Silvana Torres Polanco
Edgar Alonso Ramírez Hernández
Isaac Del Río
Iván Zamorano
Joana Urraburu Bordón
Johan Andrey Ortega Hernández
José Ángel Torrens Hernández
Larissa Alfino
Lucía Maldonado Robayo
Mateo Servent Pagliaro
Nadesca Pachao Ayala
Pablo Valdivieso
René Alejandro Nieto Contreras
Rodrigo Mauricio Lopez Ergueta