Overview
Consortium Partners
The Mercury Project: Health Ambassadors in sub-Saharan Africa is a research collaboration between Evidence in Governance and Politics (EGAP), at the University of California, Berkeley, Partnership for African Social and Governance Research (PASGR) in Nairobi, and Centre de Recherche et d'Action pour la Paix (CERAP) in Abidjan.
The project studies strategies to increase public fluency and confidence in reliable scientific information about COVID-19 and COVID vaccine uptake through a "health ambassadors" outreach initiative. The intervention consists of a "health ambassadors" program in which ambassadors trained on engaging individuals about vaccine risks and benefits and will proactively engage households and offer a direct and private opportunity to discuss concerns. The randomized controlled trials will be implemented in four Anglophone and Francophone countries in sub-Saharan Africa – Côte d'Ivoire, Malawi, Senegal, and Zimbabwe.
The first part of the project will consist of qualitative research activities including focus groups and interviews with authorities and community leaders to identify issues that might limit vaccine takeup where it remains low. After the qualitative research is conducted, a randomized controlled trial (RCT) will be implemented to test a replicable and scalable health ambassadors outreach strategy. The RCT will evaluate the effects of private conversations with trained vaccine ambassadors and how this strategy might differ from mass media public outreach to combat misinformation and promote uptake.
Learn more about the initiative:
Press release: https://www.ssrc.org/programs/the-mercury-project/grantee-announcement/
Project website: https://www.ssrc.org/programs/the-mercury-project/mercury-project-grantees/
---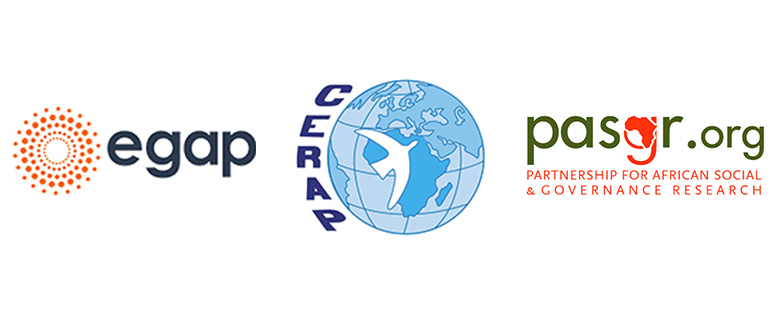 The Partnership for African Social and Governance Research (PASGR) is an independent, non-partisan Pan-African not-for-profit organization established in 2011 and located in Nairobi, Kenya. Currently engaged in more than 26 African countries, PASGR works to enhance research excellence in governance and public policy that contributes to the overall wellbeing of women and men in Africa. In partnership with individual academics and researchers, higher education institutions, research think tanks, civil society organizations, business and policy communities both in the region and internationally, PASGR supports the production and dissemination of policy relevant research; designs and delivers suites of short professional development courses for researchers and policy actors; and facilitates the development of collaborative higher education programmes.
The Centre of Research and Action for Peace (CERAP), based at the University Jesuite, is a leading research center and higher education institution in Abidjan, Côte d'Ivoire. Established in 1962, CERAP'S mission is to contribute to the building of a world of justice and peace through education and community outreach. It offers both undergraduate and graduate academic programs. CERAP has implemented projects on reconciliation and violence mitigation since the Ivorian political crisis. CERAP is also home to a publishing house, Editions du CERAP, which contributes to the promotion of African writers.
Evidence in Governance and Politics (EGAP), based at the University of California, Berkeley, is a global research, evaluation, and learning network in governance and politics with over 240 researchers and practitioners in 33 countries. EGAP promotes knowledge accumulation, innovation, and evidence-based policy in various governance domains through researcher-practitioner collaborations. EGAP provides training for both researchers and practitioners, with regional focus in sub-Saharan Africa and Latin America.
---
Goals & Outcomes
The aim of the collaborative project will be to generate replicable and scalable insights on using a health ambassadors strategy to increase public fluency and confidence in scientific health information and COVID-19 vaccine uptake. A secondary goal will be to offer a model for international, interdisciplinary research collaboration operating at the highest standards of rigor. Drawing on the past examples from EGAP's Metaketa Initiative, all aspects of the research will be produced on the basis of open and transparent collaboration and the research will be conducted in partnership with relevant local authorities and civil society. A third goal will be to build up locally-rooted institutions, individual researchers' capacities, and expert networks in Sub-Saharan Africa to facilitate future collaborative work.
---
Case Selection/Countries
Country Research Teams/Partner Pages
Intra-regional and cross-regional country comparisons will provide valuable insights into public health systems as well as contextual level factors of vaccine hesitancy. The four countries selected have a high degree of comparability and urgency in terms of confirmed cases, mortality rates, scale to population, and low rates of vaccination, relative to other countries across the continent. These countries contain sites in which EGAP, PASGR, and CERAP members collectively have extensive established research, civil society, and policy networks.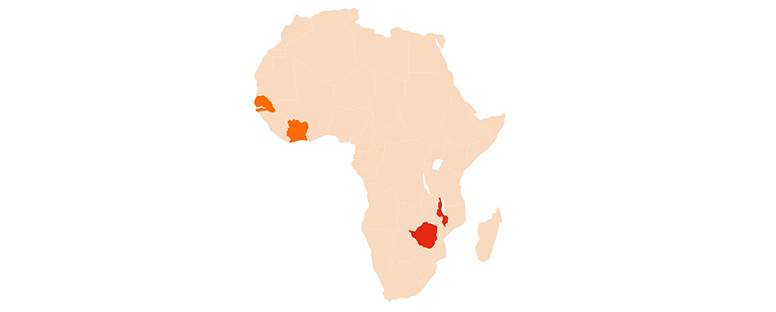 ---
Research Team
---