Elections Series: Nigeria – Presidential & Legislative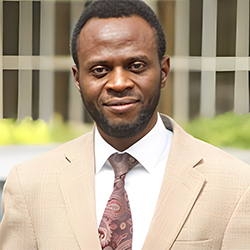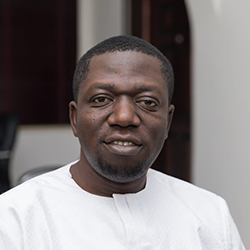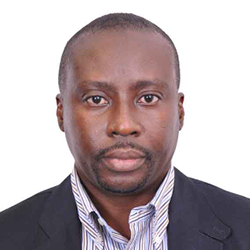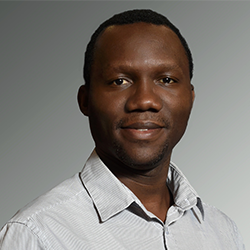 Author: Ayuko Picot
On February 25, 2023, voters in Nigeria will head to the polls to elect their president and vice president. Elections for all 469 members of the House of Representatives and Senate will also be held on the same day, followed by gubernatorial and state legislative elections on March 11th. With incumbent President Mohmmadu Buhari's term ending, a new leader for the country will be chosen. With four leading presidential candidates for the first time since the 1999 elections and a possible run-off election amidst looming security threats from non-state armed actors, the stakes for this election are high. We brought together four scholars with expertise in the country to discuss the highly anticipated elections in Nigeria.
Suleiman Barnabas is a Political/Development Sociologist. He obtained his Bachelor's degree from Covenant University in Ota, Nigeria; Master's degree in economics and business from the University of Hull, United Kingdom; and PhD in sociology from Covenant University. His research interests are in democracy and electoral systems. Barnabas has published in reputed local and international journals and has attended several national and international conferences.
Paul James is the Head of the Elections Program at Yiaga Africa, a nonprofit organization focused on the promotion of democratic governance. Paul has actively supported the deployment of the parallel vote tabulations (PVT) in over 30 off-cycle states elections and three national elections in Nigeria. He has also supported election observation efforts in Benin, Ethiopia, Gambia, Kenya, Liberia, Uganda, Zimbabwe and Zambia. Paul has committed the past 18 years to the development space, promoting electoral integrity and inspiring citizen's participation in democratic processes. He holds a Master's degree in international affairs and diplomacy and has work experience in over 10 African countries.
Franklin Oduro is the Resident Country Director at the National Democratic Institute (NDI) Ethiopia office. His career spans over 20 years in international development managing and implementing democracy, governance, elections, transitional justice and national reconciliation and peacebuilding programs. He began his career at the Center for Democratic Development in Accra, Ghana rising to the position of deputy executive director and also served in expert capacities with NDI in Nigeria and Liberia. Since 2019, as the pioneer program director for electoral support component activities, he has led and directed all aspects of NDI's citizen observer support programs. Dr. Oduro studied political science at the University of Ghana and obtained his PhD in political science from Carleton University, Canada.
George Ofosu is an Assistant Professor of Political Science at the London School of Economics and Political Science. His research focuses on political accountability, election integrity, legislator behavior, and the quality of democracy, with a regional focus on Sub-Saharan Africa. He is a Democracy and Development Fellow of the Center for Democratic Development. Previously, George held research fellowship positions at Washington University in St. Louis, Stanford's Center on Democracy, Development and the Rule of Law, and the Weatherhead Center for International Affairs at Harvard University.
---
What are the main issues that Nigerian voters are most concerned about?
Franklin Oduro, Paul James, and George Ofosu: Nigeria goes to its February/March 2023 elections with a mixed bag of critical issues related to the recurrent economic crisis, national and personal security, and governance deterioration. Nigerians are contending with numerous challenges related to financial mismanagement, lousy handling of the COVID-19 pandemic, protracted ethnic tensions, communal clashes, banditry, kidnapping, and insurgency, with seemingly no end in sight. Recent polls conducted by the Afrobarometer (R9, 2022) indicate citizens' disappointment with managing the country's economy and future direction. About 89% of respondents in the survey said the country is going in the wrong direction (compared to 69% in the last poll (R8) in 2019). 85% believe present economic conditions in the country are very/fairly bad (58% in R8). Over 40% said the government had mishandled the COVID-19 pandemic. About 36% feared walking in their neighborhood. Such disappointments regarding the quality of governance, management of the economy, corruption, safety of citizens, and overall deteriorating security remain significant concerns for Nigerians going into the polls.
Sulieman Barnabas: These are four key issues in voters' minds:
Economy: voters want to address the ongoing economic crisis. With increased poverty, uncontrolled inflation, and the unprecedented scarcity of naira notes and fuel, voters are eager to vote for a candidate whom they consider as capable of solving these economic crises.
Insecurity: voters also want to address the terrible insecurity in the land. They want to vote for a candidate whom they believe will deal with the insecurity without religious or ethnic bias towards the perpetrators.
Corruption: the failure of the incumbent president, Buhari, to effectively tackle corruption has again raised the question of the capacity of Nigeria's leaders to address its most challenging problem. Corruption has always been a key issue at every election campaign, so it is not strange to see corruption once again being a major issue in this election. In fact, one of the major arguments for the Labour Party candidate is that he has the audacity to effectively fight the ongoing corruption in Nigeria. Similarly, the All Progressives Congress (APC) and Peoples Democratic Party (PDP) candidates have faced various corruption allegations against them.
Ethno-religious considerations: voters are worried that having another Northern Muslim, Abubakar from the PDP, succeed Buhari, a Northern Muslim, after his eight-year presidential tenure, would be an injustice to the Southern part of Nigeria. In fact, the majority of the governors of the ruling party pushed to zone their party's presidential ticket to the South, but the arrangement was rejected by the party leadership. Similarly, the decision of the APC to present a Muslim-Muslim ticket for the election has been rejected by the majority of the Christian population, and this, no doubt, will inform the voting patterns and outcomes in 2023.
A departure from previous elections, which have all been a two-horse race between the All Progressive Congress (APC) and People's Democratic Party (PDP), there are four main presidential candidates running in this high-stakes election. Tell us a bit more about each of these candidates and their campaign platforms. Should voters be prepared for a runoff election?
FO, PJ, GO: For the first time since the 1999 elections, the 2023 presidential elections will have four leading candidates out of 18 who have filed to contest. Besides the more established APC and PDP, the 2023 presidential elections will feature two new popular candidates on the tickets of the Labour Party and New Nigeria People's Party (NNNP). Voters, especially the youth, view these new candidates as "progressives." A tremendous distrust in the established parties with national presence may have provided the impetus for these new popular entrants. Only 26% of voters said they trusted the ruling APC party in the recent Afrobarometer poll. Established opposition parties felt worse at 21%. Nonetheless, these four significant candidates/parties will offer voters a diverse candidate quality menu and platforms.
The incumbent party, the APC, is fielding one of the longtime power brokers in the party, Bola Ahmed Tinubu, a former Nigerian Senator and Governor of Lagos State. He enjoys the support of APC governors in 22 states, which is likely to help garner the required votes to win. He promises continuity to Buhari's achievements of providing critical infrastructures such as railways and road networks in most states of the Federation. However, his support for a Muslim-Muslim ticket (although a south-north ticket), alleged past corrupt deals, the ruling party's poor performance, and the uncertainty of Buhari's support may hurt his chances.
Atiku Abubakar, contesting on the PDP ticket, was a former Vice-President and headed the Economic Council of (former President) Obasanjo's regime. He has promised to bring change and "recover Nigeria" from the current economic crisis and the poor performance of the APC government. Atiku enjoys strong, diverse support across the nation and is believed to have a solid ability to build consensus across political divides. However, he also suffers from allegations of 'corruption' and cronyism in his role in the privatization of public enterprises under Obasanjo's administration.
The two "non-establishment" candidates that have raised excitement among voters are Peter Gregory Obi and Rabiu Musa Kwankwaso.
Peter Obi has pledged to a new government in Nigeria that emphasizes frugality, a transformation from a consumption to a manufacturing economy, and the promotion of investment in critical sectors. Some youth ("Obedients") extolls him for his credible and frugal political leadership (he was a governor of Anambra State for a mere seven months in 2006), higher level of education compared to the other candidates, and extensive experience in the private and corporate sectors. Obasanjo (1999-2007), the country's former president, has endorsed Obi. He is perceived as a Christian candidate, ethnic jingoist, and supporter of the Indigenous People of Biafra (IPOB). However, he is campaigning on the ticket of a weak political party that lacks national "structure" or presence, which can undermine his chances.
Rabiu Musa Kwankwaso is a former governor of Kano State, former Senator, and former Minister of Defence. He is contesting on the NNPP's ticket, promising an alternative political movement to the more established APC and PDP. Kwankwaso is a renowned philanthropist that has provided scholarships to many young people to further their studies overseas. He pledges to expand access to free education as he did during his time as Kano's governor. While popular, his support is concentrated in the North and is unlikely to generate the votes necessary to win.
An opinion poll conducted this last month suggests that none of the candidates will meet the constitutional requirement to win the elections on the first ballot. The law requires a candidate to secure the highest number of votes and not less than 25% of votes in at least two-thirds of all the states and the Federal Capital Territory (FCT). Many voters are likely cast their ballots along ethnic and religious lines. However, there is a significant fresh wave of voters who are likely to consider candidates's quality and platforms, which increases the likelihood of a second ballot. However, many fear that a re-run might trigger election violence from supporters of losing candidates/parties.
These elections take place as Nigeria faces increasing security threats from non-state armed actors including Boko Haram, the secessionist Indigenous People of Biafra, and criminal gangs, or bandits. Over the past few months, violent attacks targeting election commission offices in the southeast have increased. In what ways will security challenges affect this election?
SB: Security challenges should have no major effects on the elections. There may be some skirmishes, but very insignificant. The reason is, politicians are the sponsors of much of the insecurity that we experience in Nigeria. During this election, the political will and commitment to fight insecurity will be at its highest. Secondly, the sponsors of the insecurity also have political interests, and some of them are on the ballots for elective offices at the regional and national levels. So, they will likely suspend their threats during the election period to focus on achieving their political goals. My main concern is the likelihood of post-election violence caused by ethnic and religious frictions after a winner is announced.
FO, PJ, GO: Elections in Nigeria have always faced security challenges. The dynamics of security challenges are different for each election. Yet, the effect tends to be similar, centering on voter turnout. Nigerians have faced dire security challenges in the last few years with the escalation of banditry, kidnapping, religious attacks and intense militancy. While previous elections saw security threats, mainly led by Boko Haram, and also localized in the northern part of Nigeria, this time around, the intensification of non-state armed actors' attacks have vibrated across both the north and south of Nigeria. The impact of security threats to the elections remains apprehension on the part of citizens/voters in exercising their franchise, especially in areas affected by insecurity. Thus, if not addressed, insecurity will lead to voter suppression in those locations, especially with the possibilities that Independent National Electoral Commission (INEC) may not be able to conduct elections in some Local Government Areas (LGAs).
Unfortunately, the INEC has not been upfront with information about polling units' locations that may not be accessible. The commission appears to be more than confident that it will be able to conduct elections in all 176,846 polling units. Currently, there are no public official records by the commission or any government institution about inaccessible locations and where the commission may not be able to conduct elections. However, groups that are providing humanitarian assistance and election observation groups are documenting their experiences about locations that have been deserted due to insecurities or they have not been able to access due to ongoing security issues. There have been independent observer reports of at least 9 states (Anambra, Ebonyi, Imo, Katsina, Kaduna, Katsina, Niger, Sokoto, Taraba and Zamfara) specific to polling unit locations where the communities have been deserted and some of these communities are currently under the control of the terrorists. There are genuine fears that the security challenges may result in a potential constitutional crisis if elections are not conducted in at least six states.
The ruling party, the APC, nominated two Muslim candidates to run for the president and vice president tickets. The customary practice since 1999 has been to rotate the presidency between a candidate from the Muslim north and Christian south to respect the geographic-religious divide in Nigeria. What has been the public's reaction to this decision, and to what extent will ethnicity and religion influence voting patterns?
SB: The decision to run on a Muslim-Muslim ticket represents one of the greatest obstacles for the APC presidential candidate, Tinubu. Because Nigeria is composed of a Christian and Muslim population with neither able to claim numerical advantage over the other, the rule of thumb for the selection of candidates for presidential elections follows the pattern of Muslim-Christian, or Christian-Muslim candidature. Unfortunately, the ruling party jettisoned this arrangement to go for a one-religion ticket rejecting the Church in Nigeria and notable political party elites. This religious dimension to the 2023 election will definitely have an impact on the election. The caveat for the opposition relying on this "mistake," however, is that the wife of the APC candidate is a Christian and a Pastor for one of the leading Pentecostal churches in Nigeria. Also, some of Tinubu's children are Christian, so the argument from Tinubu and his allies is that Tinubu is a pro-Christian candidate. Also, the candidate of the Labour Party, Obi, has emerged as the main candidate of the Igbo (ethnicity) and the majority of the Churches/Christians (religion). Ethnic and religious sentiments will undoubtedly affect the election.
FO, PJ, GO: The north-south or vice versa ticket for presidential runs has been a tradition for the two dominant political parties since the current democratic transition began in 1999. This practice has been viewed as one way to recognize diversity, including religious differences, as well as to bridge the political, social, ethnic, and religious divisions in Nigeria. Arguably, Nigerian citizens appear to welcome this tradition as a positive one. What the APC has done in 2023, presenting two Muslims candidates, although still recognizing the north-south ticket, raised some concerns. Public reactions have been divergent. While some believe it is an attempt to unify Nigerians towards voting for a political party irrespective of religion, others view this as insensitive and an deliberate attempt to further divide citizens coming at a time when Nigeria is grappling with numerous existential threats, divisive politics, and other sentiments. The APC received backlash from the Christian community within the party, which has resulted in defections. Thus, the decision by APC to go with the same faith ticket hasn't gone down well with the average Nigerian except of course its passionate supporters. It is not yet clear how the choice made by APC will impact voting decisions, but the fact remains that religion plays a significant factor in electoral politics in the continent of Africa, and Nigeria is no exception.
Out of the eleven million new voters resulting from a twelve-month registration drive, 84% are aged between 18 and 34. What do you expect turnout to be like? What factors are driving youth participation in this upcoming election?
FO, PJ, GO: There is strong anticipation of high voter turnout, mostly driven by the youth, in this election. Out of the more than 93 million eligible voters as declared by the electoral commission, 40% are between 18 and 34 years old. Of course, voter turnout will also be affected by security during polling days. Over the past years, efforts such as the 'Not too Young to Run' campaign have been made by civil society to encourage youth participation in electoral and political processes. Ahead of the 2023 polls and during the voter registration exercise, significant attempts such as assistance for pre-online registration and free transportation to access registration centers were made to mobilize the youth population to register. Groups like, Yiaga Africa, for example, introduced pop culture and other entertaining events at registration centers. In some locations in Lagos States and Abuja City, about 11,000 and 17,000 young people respectively were registered through the #YouthVoteCount Concert. Similarly, the Power of 18 campaign led by Yiaga Africa, supported young people in 20 states to promote peer-to-peer mobilization for voter registration and PVC Collection.
It must be noted that over the past years Nigerian youth have expressed disenchantment with governance by successive governments. The #Endsars protest signifies this frustration. In October 2020, youth across Nigeria shut down the government's economic activities to protest against protracted police brutality against young people, extra-judicial killings, harassment and negative profiling by a government Special Anti-Robbery Squad (SARS). The campaign #Endsars resulted in its disbandment. There appears to be increased consciousness amongst young people that their standard of living is connected to their voting decisions. If this consciousness is to translate into the act of voting, then voter turnout for the February 25 elections will likely exceed that of the 2019 polls.
How will the outcomes of these elections impact the stability of Nigerian democracy in the future?
FO, PJ, GO: As in previous elections, the 2023 elections will be keenly contested. The polls mark another test of Nigerians' continuous belief in electoral democracy. There have been so many predictions in the recent past about the divisibility of Nigeria because of the instabilities occasioned by a troubled economy and fears for a possible military incursion. There are many unknown factors ahead of the upcoming elections. Irrespective of the legislative elections outcomes, the commitment shown by Nigerian political elites to resort to the rule of law to settle election disputes holds promise for stability. Furthermore, to the extent that Nigerians continue to prefer democracy to any other kind of government provides assurance for the future of democracy. In the most recent Afrobarometer Survey (2022), 7 out of 10 Nigerians expressed preference for democracy to any other form of government. Equally, 71% of Nigerians still believe in elections as the platform for selecting leaders. Thus, in spite of a deeply divided Nigeria along so many fault lines, the resilience and commitment of Nigerians will once again keep the democratic governance experiment going forward. Nigerians' affirmation of the 'doctrine of necessity' have kept a unified Nigeria in spite of the governance challenges the country continues to face. Hopefully, the new electoral framework can guide the 2023 polls to be an improvement over the previous and that will ensure that the democracy continues to thrive against all odds.