Which Climate Mitigation Policies do Local Elites Support?
EGAP Researchers: Danilo Freire and Umberto Mignozzetti
Other researchers: David Skarbek
Key takeaways: Latin American elites prefer having international organizations formulate climate policies, support imposing increasing fines on violators and renewing climate agreements every 5 years. They also supported both international institutions and local courts to mediate conflicts, but distrusted non-governmental organizations and rejected informal norms as a means of conflict resolution.
Geographical region: Latin America and the Caribbean
Type of study: Survey experiment
Preparer: Catlan Reardon
Executive Summary
Climate change and global warming have been on the agenda of international policy makers and advocates for years. Despite growing acknowledgement of the causes and potential solutions, changes among the international community have remained stagnant. Global talks and summits are often stymied by domestic concerns and indecision among participants. Current climate agreements — many fear — may not catalyze the collective changes necessary to combat rising temperatures. In this paper, the authors investigate which institutional facets of climate change policy Latin American elites favor the most. Local elites hold key roles in directing local environmental policy — through capacity building or rule setting. As such, the study provides insight into elite preferences over the institutional design of climate change agreements and — potentially — the likelihood that these agreements are followed.
Using a conjoint experimental design, the authors find that elites in Latin America supported the following features of climate change treaties:
they prefer having international organizations formulate climate policies;
they support imposing increasing fines on policy violators;
they support renewing climate agreements every 5 years;
they do not support having non-governmental organizations establish climate policy rules;
they do not support informal norms as a means of conflict resolution.
Policy Challenge
Global temperatures and carbon dioxide emissions continue to rise. Scientists fear the environmental implications of these changes will be significant, primarily for developing countries. Given the current trends, experts believe the existing climate arrangements may not be sufficient to spur states to meet present climate targets. Indeed, climate agreements depend on individual states to voluntarily comply and often include provisions by which states can miss targets depending on domestic circumstances. The Paris Agreement is an example of one such treaty — relying on Nationally Determined Contributions to set greenhouse gas reductions for each state. That climate treaties are incomplete contracts renders local stakeholders — such as advocacy groups, academics, and policy makers — important actors in directing local climate policy. Thus, understanding local elite preferences over climate agreements is important in identifying which institutional arrangements may be most effective and sustainable.
Context
The study was conducted across 10 countries in Latin America. Latin America provides a good context for this study for several reasons. In many states in Latin America, local elites play important roles in policy making and public decision-making. As such, they possess leverage in constraining or facilitating climate policies. In addition, many countries in Latin America are particularly vulnerable to the risks of climate shocks. Central America alone has four countries in the top 10 most impacted by extreme weather events (Eckstein et al. 2017). Similarly, Latin America possesses a wealth of biodiversity and environmental variation — lending itself to be a natural key player in environmental policy making and design of climate mitigation projects.
Research Design
To test the effect of different institutional features on climate change agreements, the authors used conjoint experiments. Conjoint experiments randomly vary different attributes of interest across a similar topic in order to examine how much respondents value each attribute in relation to each other (Bansak et al. 2016; Hainmueller et al. 2014). The conjoint experiments were included in an elite survey conducted between October 1 and December 5, 2018 with 624 respondents. The sample included academics, members of the executive power, legislators, businesspeople, and members of non-governmental organizations. The goal of the experiments was to assess which institutional features of climate agreements Latin American experts preferred the most. The authors varied six features across each profile. These features include who makes the rules, how conflicts would be mediated, the punishment for rule-breakers and for repeated violations, which counties should shoulder the costs, and the frequency with which agreements should be renegotiated.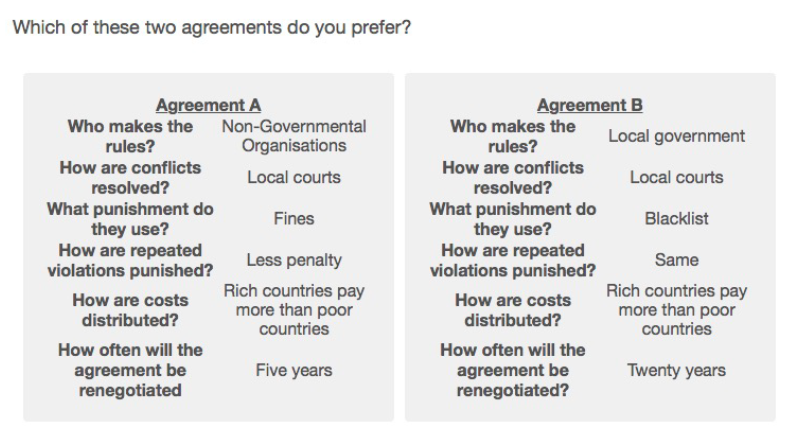 Results
Who should establish local climate mitigation rules?
Latin American elites prefer that international organizations set the rules of climate agreements over both federal and local governments.
Elites surveyed hold positive opinions about local community members contributing to rule-making.
Non-governmental organizations are Latin American elites' least preferred actor to decide on rules.
Who should be responsible for resolving conflicts?
The authors find that elites prefer that disputes be settled by the United Nations.
Elites favor climate agreements less when conflicts are settled by government bureaucracy or left to informal rules or norms.
Most elites prefer some type of punishment of rulebreakers — favoring the use of fines over imprisonment or blacklisting.
Elites slightly favor linking burden of payment to history of emissions — yet, this is not statistically different from basing costs on current emissions.
Other findings
Climate agreements with some level of flexibility are preferred by elites.
Elites favor agreements that can be renegotiated every five years.
Elites believe that Latin American countries should contribute to the global provision of public goods; the authors did not find evidence of intent to use local agreements to free-ride on global climate change policies.
Lessons
Overall, the study provides insight into which features of climate change agreements may be most preferable to Latin American elites. The results suggest that neither a strict hierarchical or decentralized approach to treaties may be optimal. Instead, while elites do favor international organizations taking a role in rule-making and conflict resolution, they still favor some contribution from local community members. Climate change agreements face several hurdles for successful implementation. This study adds important information to policymakers about elite preferences that may increase the political will to follow through on climate mitigation policies.