Learning Days 11: Latin America Regional Hub Workshop
Organized by Universidad de los Andes, home of the Latin America Regional Hub of Evidence in Governance and Politics (EGAP) along with host organization Universidad del Rosario
November 28 – December 02, 2022
Bogota, Colombia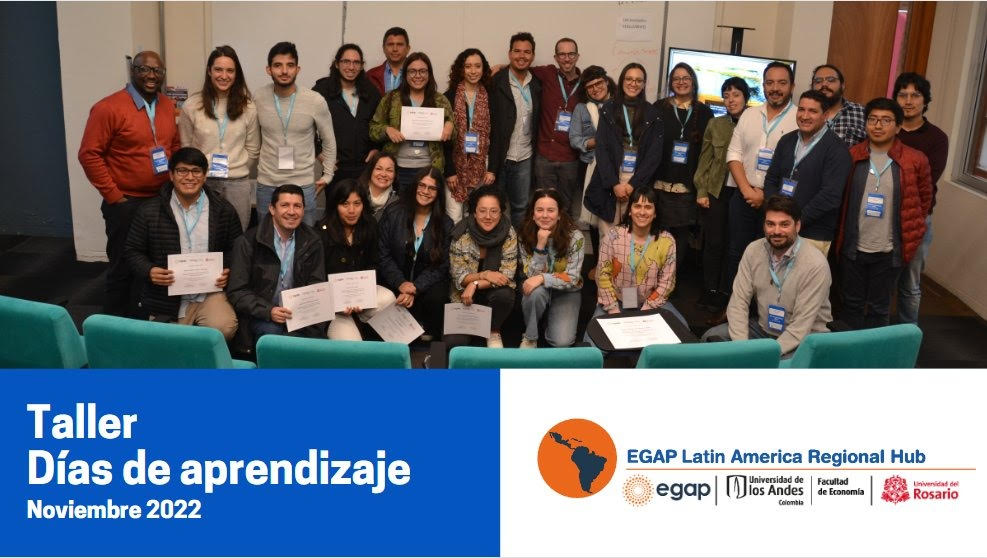 The EGAP LATAM Regional Hub (Evidence in Governance and Policy in Latin America) based at Universidad de los Andes held a Learning Days workshop in Bogota, in alliance with Universidad del Rosario as the host institution, from Monday, November 28 to Friday, December 2, 2022.
This 5-day intensive workshop introduced and developed familiarity with causal inference in impact evaluations with a quantitative focus. It served Latin America-based scholars, researchers and practitioners working in academic, non-governmental, and government organizations who carry out analyses related to Governance, Policy, and Development issues.
This workshop was held in Spanish. It covered concepts & tools for impact evaluations through randomized interventions, statistical exercises in R, and individual advisory sessions for participants to strengthen their own research designs. Key topics included causal inference, randomization, estimation, and hypothesis testing among others.
The workshop was organized by Latin America Hub Trainings Director Rachid Lajaaj (Universidad de los Andes), host Juan Vargas (Universidad del Rosario), and a team of instructors including Julia Seither (Universidad del Rosario), Rafael Piñeiro (Universidad Católica del Uruguay), Lily Medina (UC Berkeley), and Michael Weintraub (Universidad de los Andes).
Workshop Participants
Ana Paula Pellegrino
Augusto Noel Mendoza Calderón
Camila Ortiz Inostroza
Danny Miguel Rebolledo Castillo
Diego Quispe Ortogorin
Fernando Adrián Tavara Ramírez
Giovanni Patricio Espinosa Velasco
José Antonio Mendoza Sánchez
Joselin Segovia
Juan Carlos Rodríguez Marín
Lisandro Edgardo Roco Fuentes
María Alejandra Peña López
María Juliana Rubiano Lizarazo
Natalia Estefanía Moreno Mier
Ronny Martin Condor Iturrizaga
Sany Leon Curasi
Vladimir Castillo Pérez
Yadiraah Estefany Iparraguirre Cieza